Bilbao or San Sebastian: Which One To Choose For A Few Days?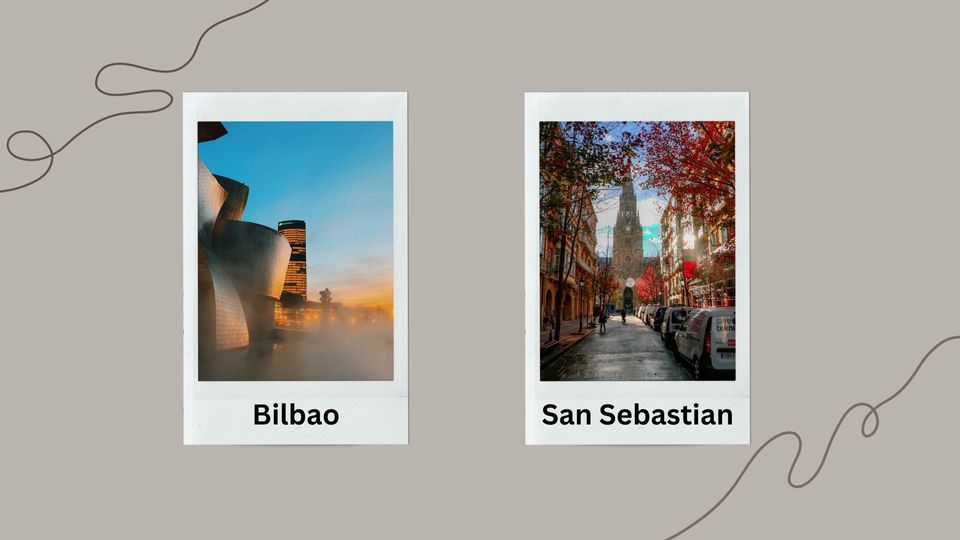 Choosing between Bilbao and San Sebastian can be a true conundrum for travelers planning a visit to Spain's vibrant Basque Country. Each city offers a unique cultural experience, tempting gastronomic delights, and stunning natural beauty.
Bilbao, an industrial powerhouse turned cultural hub, attracts visitors with its innovative architecture and vibrant art scene. San Sebastian, on the other hand, known as the pearl of the Cantabrian Sea, seduces with its beautiful beaches, charming old town, and a world-renowned food scene. No matter which city you decide to visit, the Basque Country promises a memorable adventure!
What travelers say about Bilbao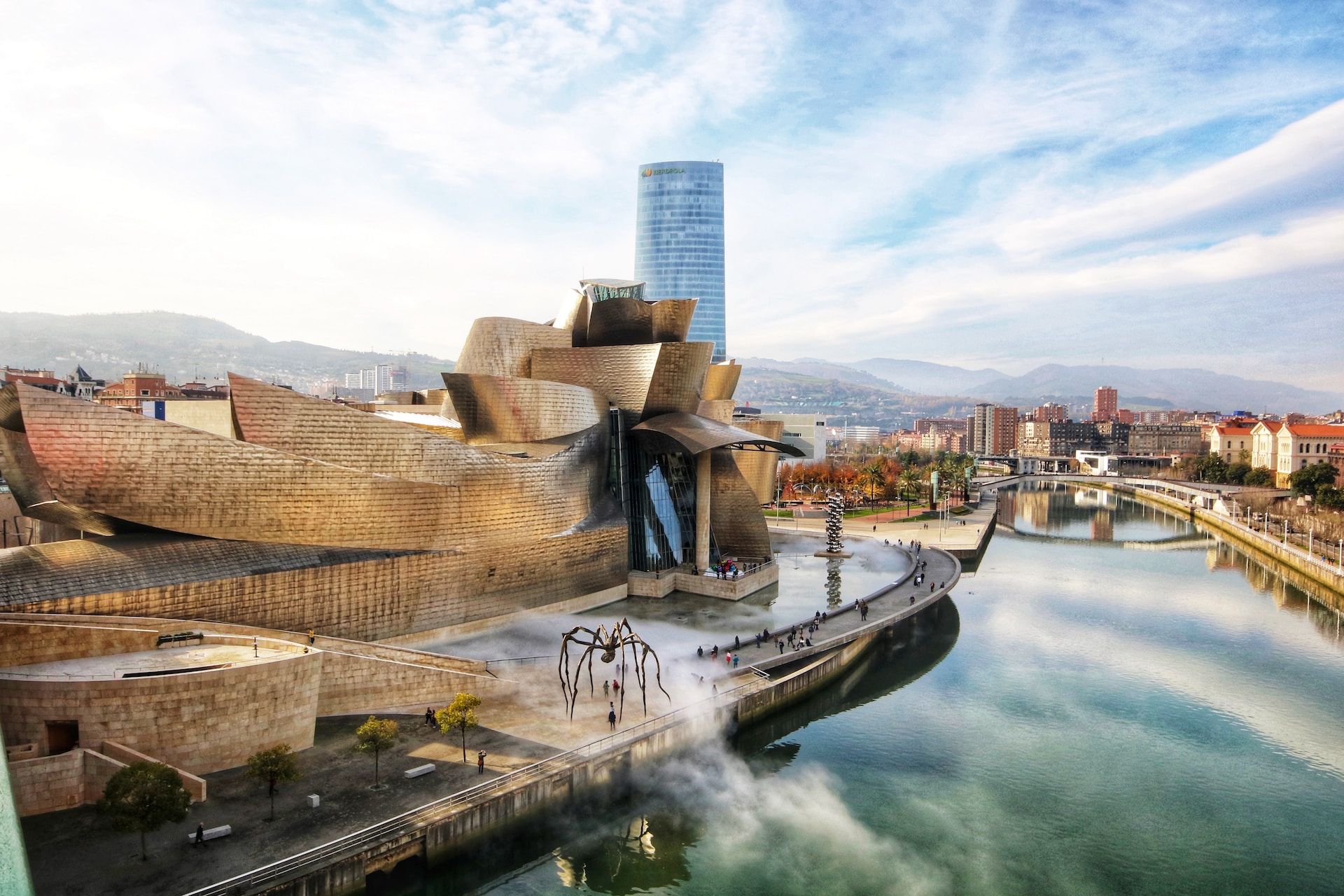 🏰 Architectural Wonders: Visitors are constantly amazed by Bilbao's transformation from an industrial city to a hub of avant-garde architecture. The Guggenheim Museum, designed by Frank Gehry, stands as a symbol of the city's regeneration and is a major draw. Meanwhile, the charming Casco Viejo, Bilbao's old town, offers a delightful contrast with its narrow, winding streets and traditional Basque buildings.
🎭 Cultural Hotspot: Bilbao's vibrant culture leaves a lasting impression on travelers. From its world-class museums to the city's lively festivals, Bilbao showcases its unique Basque heritage. Visitors often appreciate the city's burgeoning art scene, with the Guggenheim and the Bilbao Fine Arts Museum among the top favorites.
🍽️ Gastronomic Pleasures: Bilbao's food scene is a highlight for many travelers, who relish the chance to indulge in traditional Basque cuisine. The city is renowned for its pintxos bars, where a variety of these bite-sized delights can be enjoyed. Many also note the experience of visiting the bustling Ribera Market, where one can sample local produce and taste the best of the region's food and wine.
🌿 Nature and City: Visitors often highlight Bilbao's perfect blend of urban and green spaces. They speak highly of the city's clean, green parks, and the breathtaking views from Mount Artxanda. The nearby beaches and nature reserves also add to Bilbao's appeal as a city nestled in nature.
💃 Vibrant Nightlife: Bilbao's nightlife earns high praise from travelers. The city comes alive at night with its mix of traditional pintxos bars in the Casco Viejo, chic riverside clubs, and cultural events, providing a variety of experiences for all tastes.
What travelers say about San Sebastian
🏖️ Beach Haven: Travelers are enchanted by San Sebastian's beautiful beaches. The city's crown jewel, La Concha Beach, is often mentioned as one of the best city beaches in Europe, with its golden sand and calm blue waters. Zurriola Beach, popular with surfers and a younger crowd, is also a highlight for many visitors.
🍽️ Gastronomic Capital: San Sebastian's food scene is world-renowned, and visitors are invariably impressed. Known for its high concentration of Michelin-starred restaurants, the city is also praised for its traditional pintxos bars in the Old Town. Many visitors enjoy the experience of "pintxo-pote", the local tradition of bar hopping and pintxo tasting.
🏰 Charming Old Town: The Parte Vieja (Old Town) of San Sebastian is a favorite among travelers. They love its narrow, cobblestone streets, vibrant atmosphere, and historic buildings. The view from the top of Monte Urgull, overlooking the Old Town, is often described as unforgettable.
🎭 Cultural Experiences: San Sebastian's cultural offerings are appreciated by many visitors. From its annual film festival to the traditional Basque music and dance performances, the city is seen as a vibrant cultural center. The San Telmo Museum, offering insights into Basque history and culture, is a favorite spot.
🍷 Thriving Wine Scene: The nearby Txakoli vineyards and the tradition of cider houses are unique experiences that many visitors to San Sebastian enjoy. These outings provide a deeper understanding of the local food and drink culture, and are seen as a delightful complement to the city's gastronomic scene.
Getting Around
Getting Around Bilbao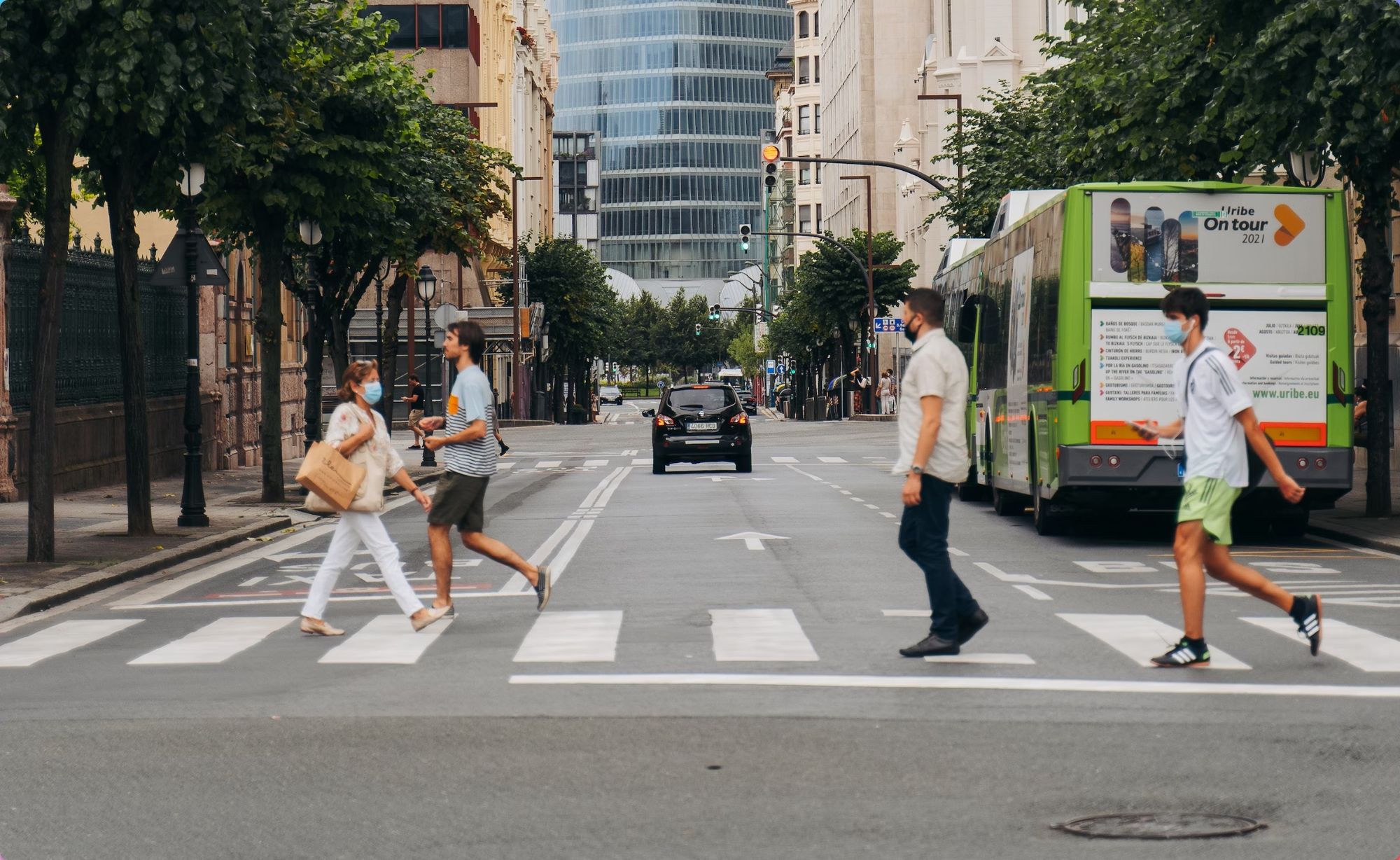 Navigating Bilbao is a breeze, with its compact size making many of its key attractions easily accessible on foot. For distances a bit farther, Bilbao's public transportation system, which includes a metro and a tram service, is efficient and comprehensive. The metro covers most areas of the city, while the tram runs along the Nervión River, passing by many of Bilbao's highlights. For those who prefer to cycle, the city's bike-sharing program, Bilbon Bizi, and the city's network of bike lanes provide an excellent alternative.
Taxis, another reliable option, can be easily hailed or booked via an app, and are especially handy for shorter trips or when public transportation isn't convenient. Car rental services are available but driving isn't recommended within the city due to limited parking and traffic. However, having a car could be useful for exploring the surrounding Basque Country. If you're planning to use public transport frequently, consider getting a Barik card, a rechargeable card valid for use on the metro, tram, and city buses.
Getting Around San Sebastian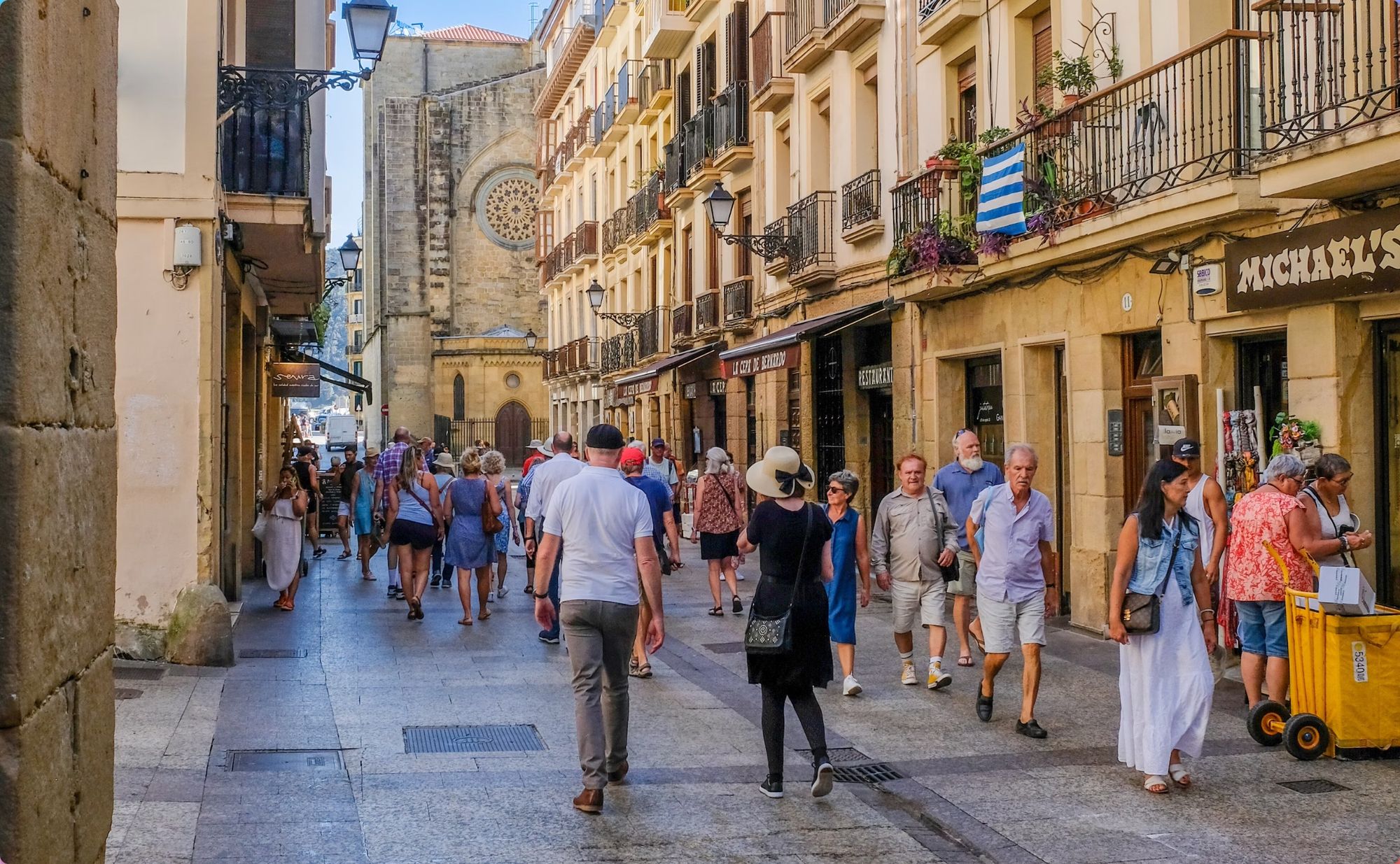 San Sebastian is a delight to explore, with much of its charm, including the stunning beaches and the old town, concentrated within a walkable area. The city's layout makes it easy for visitors to discover its attractions on foot, and walking around provides a leisurely pace to enjoy the city's ambiance and beautiful views, especially along La Concha Bay.
For transportation within the city, San Sebastian's public bus system, Dbus, is efficient and comprehensive, connecting various neighborhoods and key points of interest. For a more scenic route, especially along the coastline, the city's bicycle rental system offers another great way to explore. Taxis are also readily available and can be flagged down on the street, called by phone, or hired from taxi ranks. If you plan to explore the wider Basque region, car rental services are available, but bear in mind that parking can be challenging in the city center.
Vibe and People
Bilbao: Modern Meets Traditional
Bilbao's vibe can be described as a harmonious blend of traditional and modern. The city has undergone an incredible transformation from an industrial port city to a modern arts and culture hub, but it has not lost touch with its rich history and Basque traditions. This is reflected in the city's vibe, which oscillates between the historic old town's narrow cobblestone streets and the avant-garde architecture that symbolizes its modern face.
The people of Bilbao, known as Bilbainos, are known for their friendly and welcoming nature. They are proud of their Basque heritage, which is visible in their cultural festivals, language, and cuisine. The Bilbainos love to celebrate and socialize, and pintxos bars are popular social meeting points. The city has a relaxed pace, but the locals also know how to enjoy life, as seen in the city's lively nightlife.
San Sebastian: Elegant & Gastronomic
San Sebastian, or Donostia as it's known in Basque, is a city of elegance and charm. Its stunning beaches, world-class gastronomy, and vibrant cultural scene give it an upbeat and sophisticated vibe. Despite being a popular destination, the city retains a relaxed, laid-back feel, particularly along its beautiful beachfront promenades and in its quaint old town.
Donostiarras, as locals are known, are warm, friendly, and proud of their city and Basque culture. They are enthusiastic about their unique traditions, language, and particularly their food - the city is well-known for its love of good food and wine. This love for gastronomy is a vital part of their social life, with friends and families often seen enjoying pintxos and txakoli (a local white wine) in the city's many bars and restaurants. Despite its sophistication, San Sebastian also has a down-to-earth side, with locals enjoying the city's natural surroundings, from the beaches to the surrounding hills.
Sights & Culture
Bilbao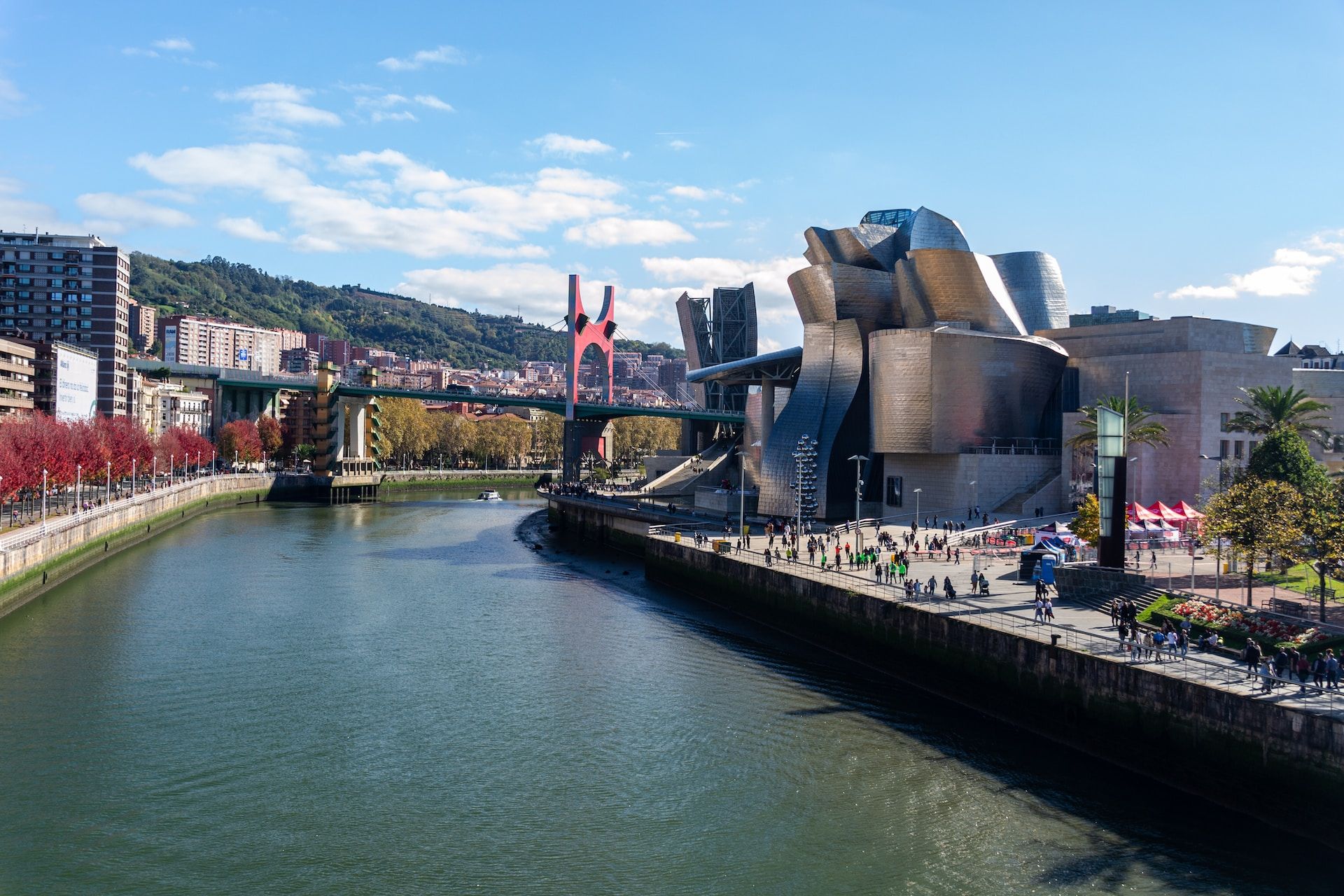 🏛️ Guggenheim Museum: A spectacular example of contemporary architecture, this museum is one of the most important cultural institutions in Spain, housing a wealth of modern and contemporary art.
🏰 Casco Viejo (Old Town): This historic area is filled with narrow, winding streets, charming plazas, and many of Bilbao's traditional pintxos bars.
🎨 Bilbao Fine Arts Museum: This museum holds a fascinating collection of Basque, Spanish and European art, from the Middle Ages to the contemporary era.
⛪ Bilbao Cathedral: Known as the Santiago Cathedral, this is a beautiful example of Gothic architecture in the heart of the old town.
🌳 Doña Casilda Iturrizar park: The city's largest park, perfect for a leisurely stroll or picnic.
San Sebastian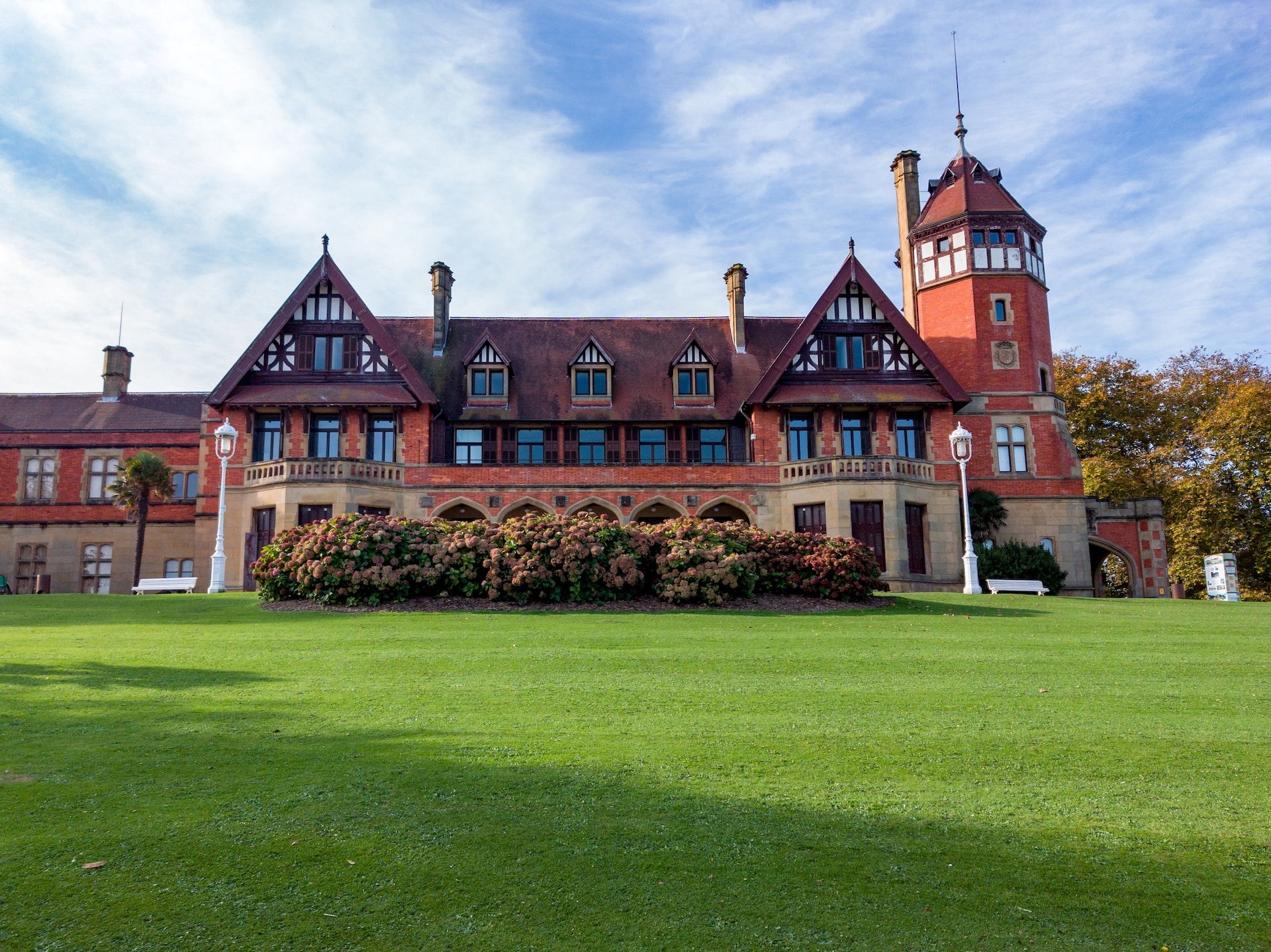 🏖️ La Concha Beach: Regarded as one of the most beautiful city beaches in Europe, it's perfect for a swim or a leisurely stroll along the promenade.
🍴 Parte Vieja (Old Town): The heart of San Sebastian's food scene, the Old Town is packed with pintxos bars and restaurants serving Basque cuisine.
⛪ Basilica of Saint Mary of the Chorus: A beautiful baroque church located in the Old Town.
🏞️ Mount Urgull: Home to the Castillo de la Mota castle, and provides stunning panoramic views of San Sebastian.
🐠 Aquarium: Located at the port, it offers fascinating insight into marine life, including a spectacular underwater tunnel.
Food & Nightlife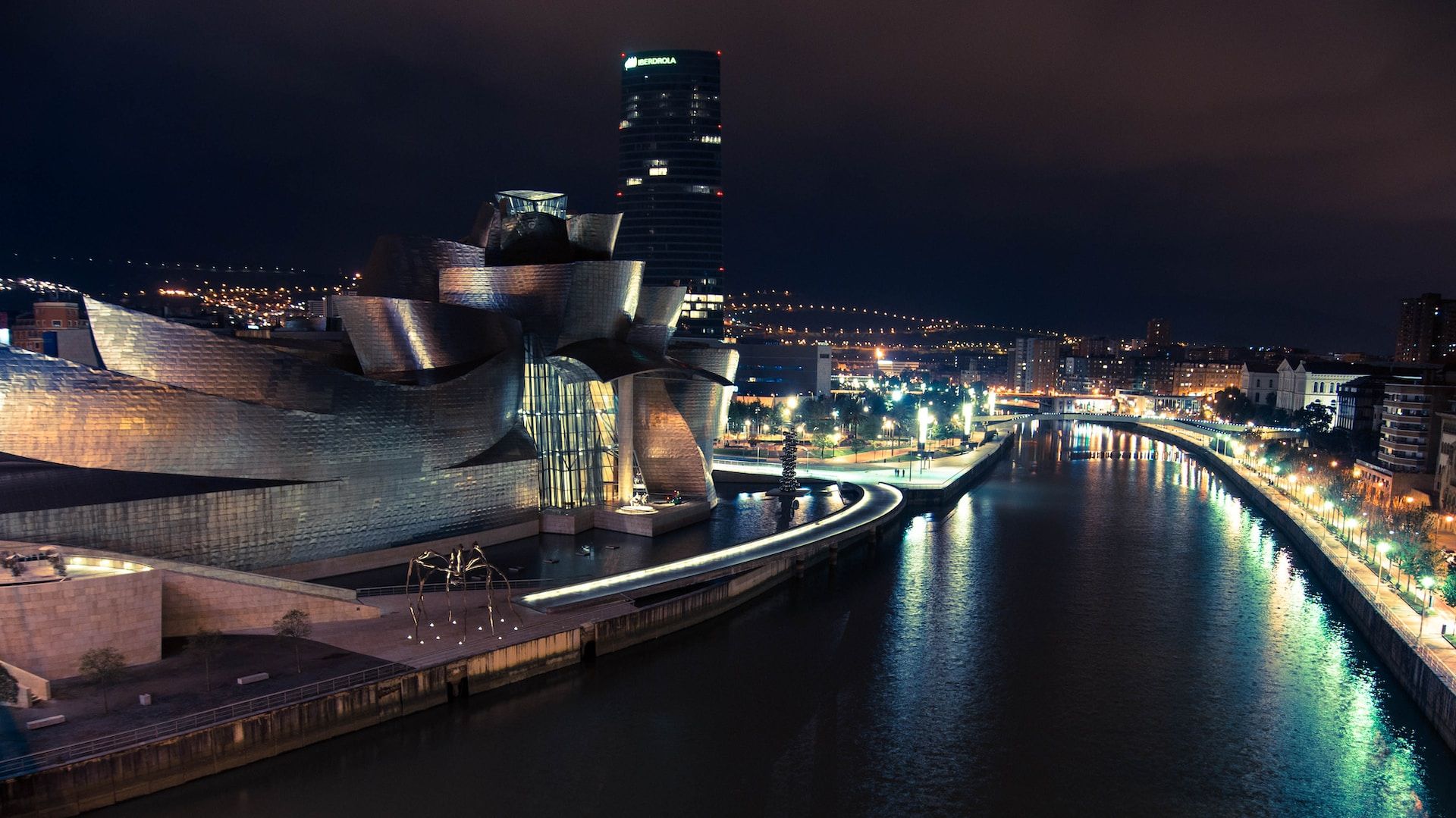 Bilbao
Bilbao is a gastronomic delight, where traditional Basque cuisine meets innovative culinary artistry. The city's food scene ranges from hearty pintxos (Basque tapas) in the bustling bars of the Casco Viejo to sophisticated dishes in its Michelin-starred restaurants, such as Azurmendi and Nerua. For a true taste of Bilbao, try local specialties like bacalao a la vizcaína (salt cod in a red pepper sauce) and marmitako (tuna and potato stew).
When it comes to nightlife, Bilbao offers a vibrant scene that caters to all preferences. Whether you're after a lively night out bar-hopping in the Licenciado Poza street near San Mamés, or a relaxed evening enjoying a performance at the Arriaga Theatre, Bilbao has it all. The city's cultural calendar is packed with events and festivals, adding to its night-time allure.
San Sebastian
San Sebastian is renowned as a food lover's paradise, boasting more Michelin stars per square meter than almost any other city in the world. The city's gastronomic scene, however, is not only about fine dining establishments like Arzak and Akelarre. It's also about the Parte Vieja, the old town, brimming with pintxos bars serving bite-sized culinary masterpieces that perfectly pair with local wines like txakoli.
San Sebastian's nightlife may be a bit quieter than in other Spanish cities, but it's no less enjoyable. The pintxos bars that line the streets of the Parte Vieja provide a casual yet lively atmosphere. For a night of dancing, the Gros neighborhood offers several clubs and bars with a range of music styles. And for a cultural evening out, the Victoria Eugenia Theatre hosts a variety of performances throughout the year.
Shopping
Shopping in Bilbao
Bilbao offers a rich shopping experience that caters to both modern and traditional tastes. The city's main shopping area, Gran Vía, is lined with high street brands, department stores like El Corte Inglés, and designer boutiques. For a more traditional shopping experience, venture into the Casco Viejo, where you'll find independent shops selling local crafts, gourmet food, and Basque artisanal products.
The Mercado de la Ribera, one of Europe's largest covered markets, is a must-visit. Located in the old town, it offers a vibrant atmosphere and a range of fresh produce, meats, and cheeses. For art enthusiasts, the Guggenheim Museum shop offers a selection of unique art-related items and souvenirs.
Shopping in San Sebastian
San Sebastian's shopping scene reflects its elegant and sophisticated vibe. The city's compact center is home to a variety of shops, ranging from high-end fashion boutiques in the area around Calle de San Marcial to independent retailers selling local Basque crafts and designs.
Avenida de la Libertad and its surrounding streets form the city's main shopping area, with a mixture of Spanish and international brands. For a more unique shopping experience, the traditional markets like Mercado de la Bretxa offer fresh local produce and regional delicacies. If you're a foodie, don't miss a visit to any of the gourmet shops selling local wines, artisanal cheeses, and other Basque delicacies.
Lodging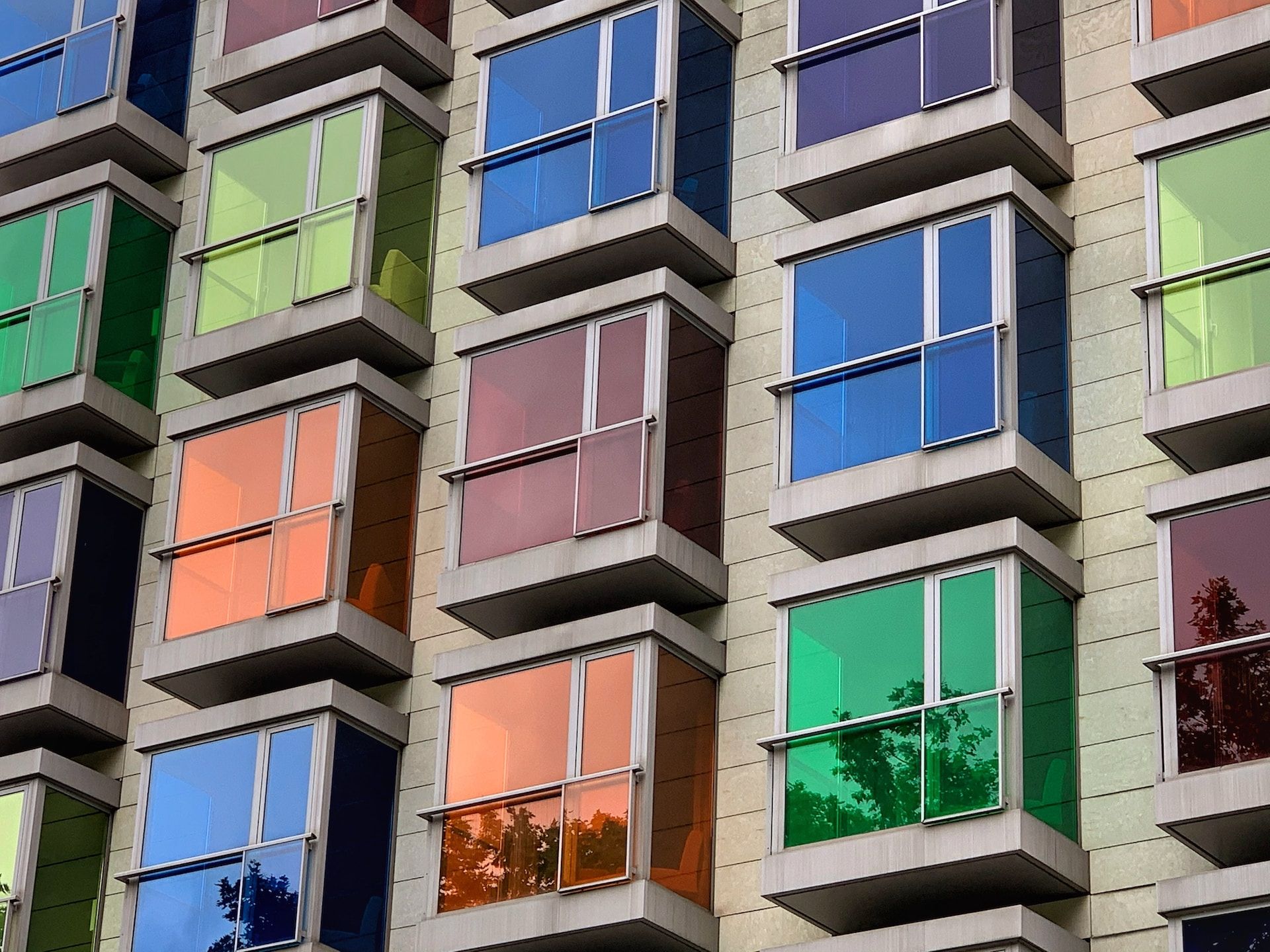 Lodging in Bilbao
Whether you're seeking luxury accommodation, a trendy boutique hotel, or budget-friendly options, Bilbao caters to all needs. High-end hotels like the Gran Hotel Domine offer luxury and stunning views of the Guggenheim, while boutique options such as the Hotel Miro provide a stylish stay in the city center. For budget travelers, hostels and budget hotels around Casco Viejo offer affordable and central lodging.
Airbnb is also a popular choice, with a wide range of options from modern apartments in the city center to more traditional homes in the outskirts. For a unique stay, consider booking a room in one of Bilbao's historic pensions located in the old town.
Lodging in San Sebastian
San Sebastian offers a variety of accommodation options to suit different budgets and preferences. Luxury seekers might opt for the iconic Hotel Maria Cristina or the modern seaside resort Akelarre by Pedro Subijana, both offering top-notch service and facilities. Boutique hotels, like the centrally located Hotel Villa Soro, provide a unique and charming stay.
There is also a good range of mid-range hotels and pensions, especially in the city center and the Antiguo neighborhood. For those traveling on a budget, there are several quality hostels and budget hotels available.
Final Thoughts
Bilbao and San Sebastian, each with its unique vibe and cultural offerings, provide travelers with distinct experiences. Both cities serve as gateways to the rich Basque culture and heritage.
Bilbao, with its avant-garde architecture and buzzing food scene, is a city of transformation where tradition meets modernity. It's a place where art enthusiasts, history buffs, and food lovers can all find their share of enjoyment. The city's ability to preserve its past while looking forward is part of what makes Bilbao so compelling to visit.
San Sebastian, on the other hand, is a city that exudes elegance and charm. It offers the unique combination of beautiful urban beaches, a food scene recognized worldwide, and a cultural landscape filled with festivals and events. Its relaxed pace of life and stunning natural surroundings make it an ideal destination for those seeking both relaxation and cultural immersion.
Ultimately, the decision between Bilbao and San Sebastian depends on your personal preferences. Whether you choose the urban allure of Bilbao or the seaside sophistication of San Sebastian, both cities offer enriching experiences that leave lasting memories. Better yet, given their close proximity, consider visiting both to get a fuller picture of the diverse Basque Country.