Barcelona or Madrid: Which One To Choose For A Few Days?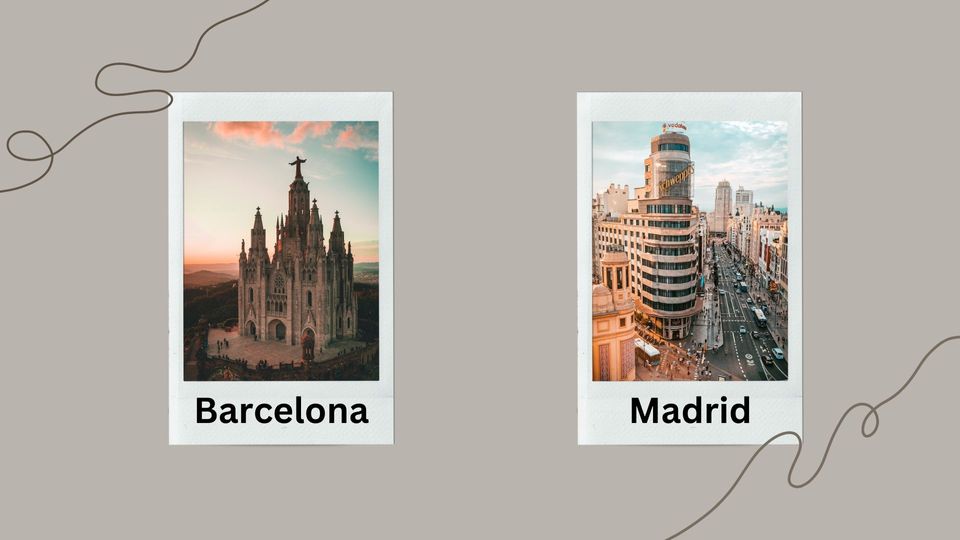 Bienvenidos, travel enthusiasts, and those with a case of wanderlust! Today, we're about to embark on a virtual journey and face an age-old quandary that plagues even the most seasoned travellers: Barcelona or Madrid? Which city should you pick for a short, intense burst of Spanish flavour?
Spain, a vibrant tapestry of art, culture, cuisine, and history, has two of its most vibrant threads tangled in a fascinating face-off - the cosmopolitan allure of Barcelona with its modernist flair, and the regal charm of Madrid, the heartbeat of Spanish tradition. Both cities promise a wealth of experiences, each with a unique persona and a different tale to tell.
What travelers say about Barcelona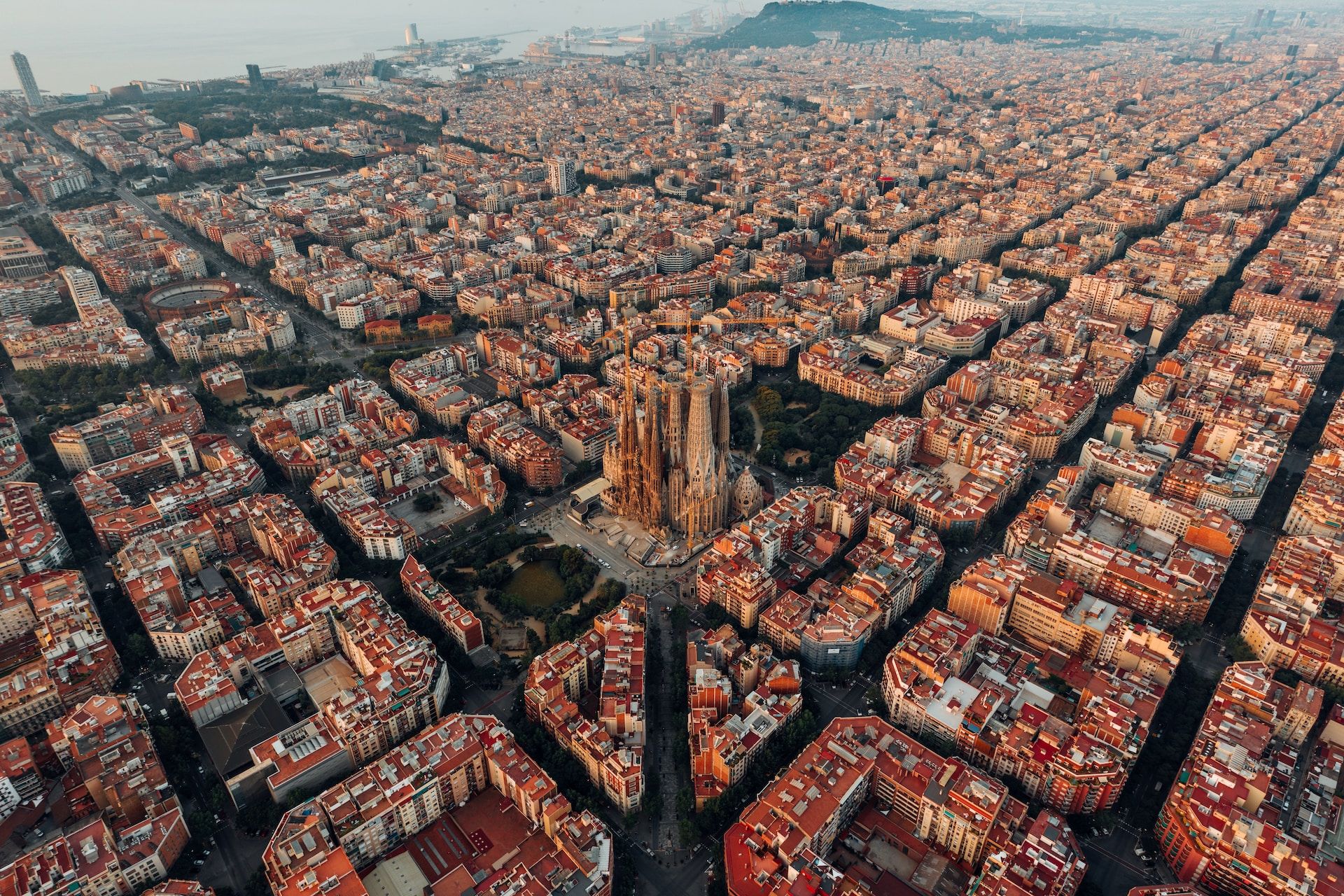 🏰 Architectural Marvels: Travelers are in awe of Barcelona's architectural masterpieces, particularly the iconic Sagrada Familia and the imaginative works of Antoni Gaudí, such as Park Güell and Casa Batlló. The city's Gothic Quarter with its narrow streets and historic buildings also adds to its architectural charm.
🎭 Cosmopolitan and Cultural Hub: Barcelona's thriving arts and cultural scene impresses visitors. The city is home to numerous art galleries, museums, and theaters, showcasing a rich artistic heritage. Travelers often express admiration for the vibrant street art, live music performances, and the city's dedication to preserving its cultural traditions.
🍽️ Culinary Delights: Barcelona's food scene receives high praise from travelers, who savor the diverse flavors of Catalan cuisine. From tapas and paella to fresh seafood and delectable pastries, the city offers a gastronomic adventure. The vibrant Boqueria Market is a favorite spot to sample local delicacies.
🏖️ Beaches and Mediterranean Lifestyle: Barcelona's sandy beaches, including Barceloneta Beach, provide a picturesque backdrop for relaxation and water activities. Travelers appreciate the city's laid-back Mediterranean lifestyle, where leisurely dining, strolling along the promenades, and enjoying beachside cafés are integral to the local culture.
🎉 Lively Nightlife: Barcelona's nightlife is renowned for its energy and variety. Travelers often mention the city's vibrant bars, clubs, and live music venues, particularly in the trendy neighborhoods of El Raval, El Born, and Gràcia. The late-night dining culture, known as "sobremesa," is also appreciated by visitors.
What travelers say about Madrid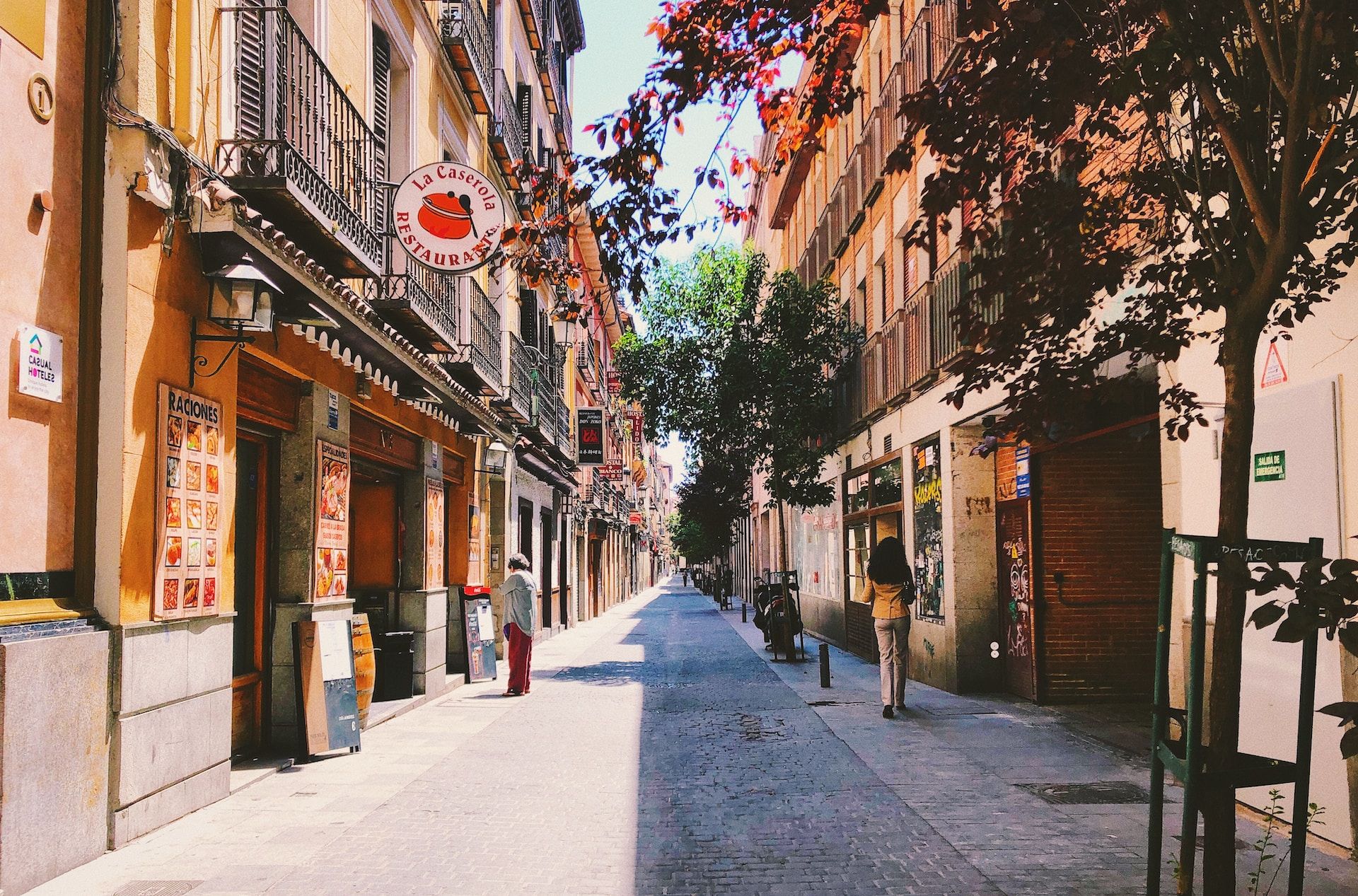 🏰 Historical and Cultural Treasures: Travelers appreciate Madrid's wealth of historical and cultural landmarks. The Royal Palace, Prado Museum, and Retiro Park are often highlighted as must-visit sites that showcase the city's grandeur and artistic heritage.
🍽️ Culinary Delights: Madrid's food scene garners high praise from travelers. The city offers a delectable array of traditional Spanish dishes, tapas bars, and gourmet restaurants. From mouthwatering Jamón Ibérico and authentic paella to churros with chocolate, the culinary experiences in Madrid are a treat for the taste buds.
🛍️ Shopping Paradise: Madrid is renowned for its shopping opportunities, with travelers often praising its diverse retail offerings. From high-end fashion boutiques in the Salamanca district to vibrant street markets like El Rastro, visitors can indulge in everything from designer brands to unique local crafts.
🎭 Vibrant Nightlife and Entertainment: Madrid's nightlife is legendary, with travelers reveling in the energetic ambiance of its bars, clubs, and live music venues. The city comes alive after dark, offering a vibrant atmosphere for dancing, socializing, and enjoying performances of flamenco, jazz, and more.
🌳 Parks and Green Spaces: Madrid's numerous parks and gardens, such as Retiro Park and Casa de Campo, provide a refreshing escape from the bustling city streets. Travelers appreciate these green oases for leisurely walks, picnics, and enjoying outdoor activities.
Getting Around
Getting Around Barcelona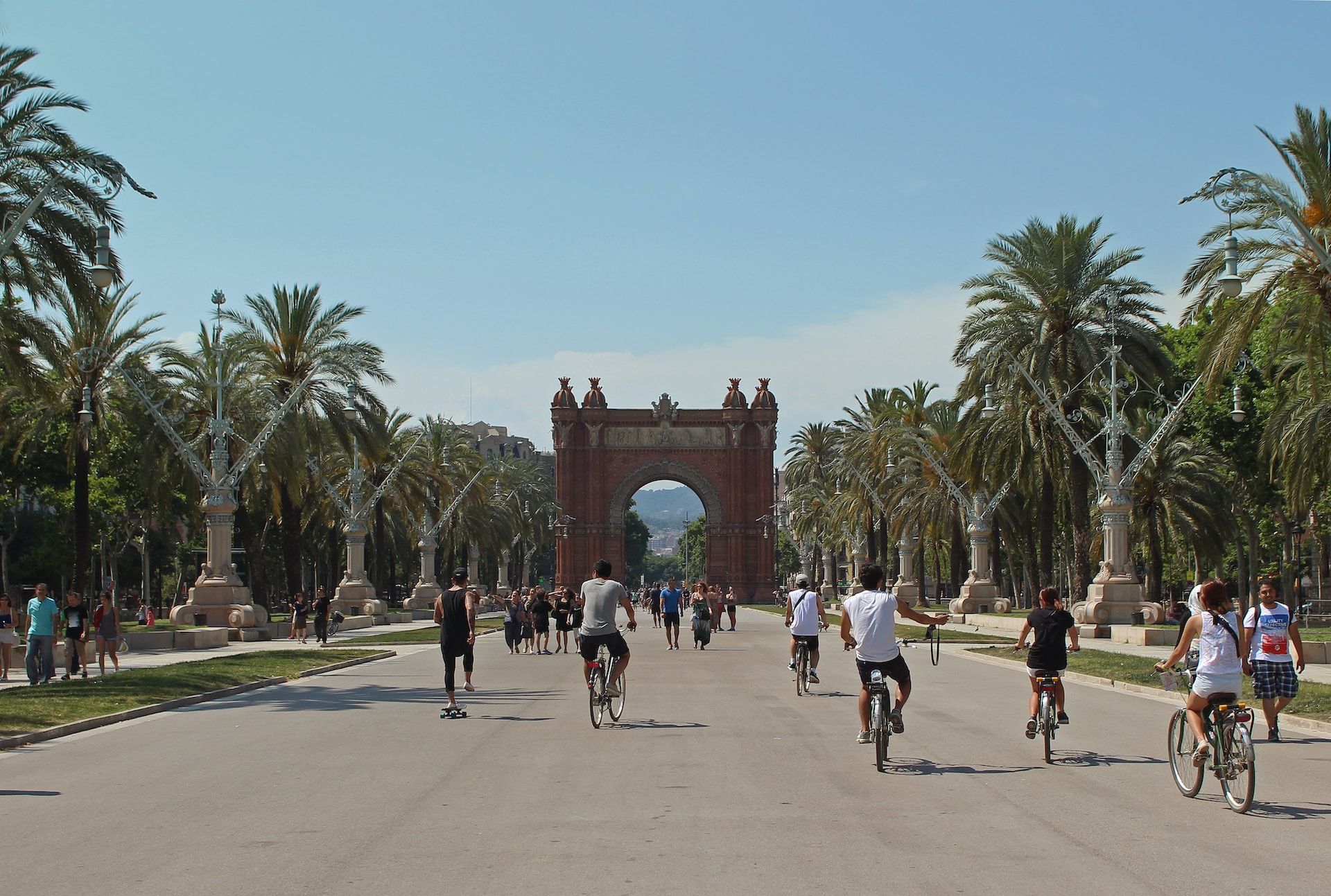 Barcelona offers a variety of transportation options that make getting around the city a breeze. The extensive metro system is efficient and covers most parts of the city, including major tourist attractions and neighborhoods. Buses also provide comprehensive coverage and are a convenient mode of transportation. Barcelona's public transportation system is integrated, allowing for easy transfers between metro, bus, and tram lines using a single ticket or travel card.
Travelers can also opt for taxis or ride-sharing services for convenient and direct transportation. Walking is a popular way to explore the city, especially in the historic Gothic Quarter and along the vibrant Las Ramblas. Additionally, Barcelona has a well-developed bike-sharing system called Bicing, making cycling an enjoyable and eco-friendly option for moving around the city, particularly along the city's beachfront and dedicated bike lanes.
Getting Around Madrid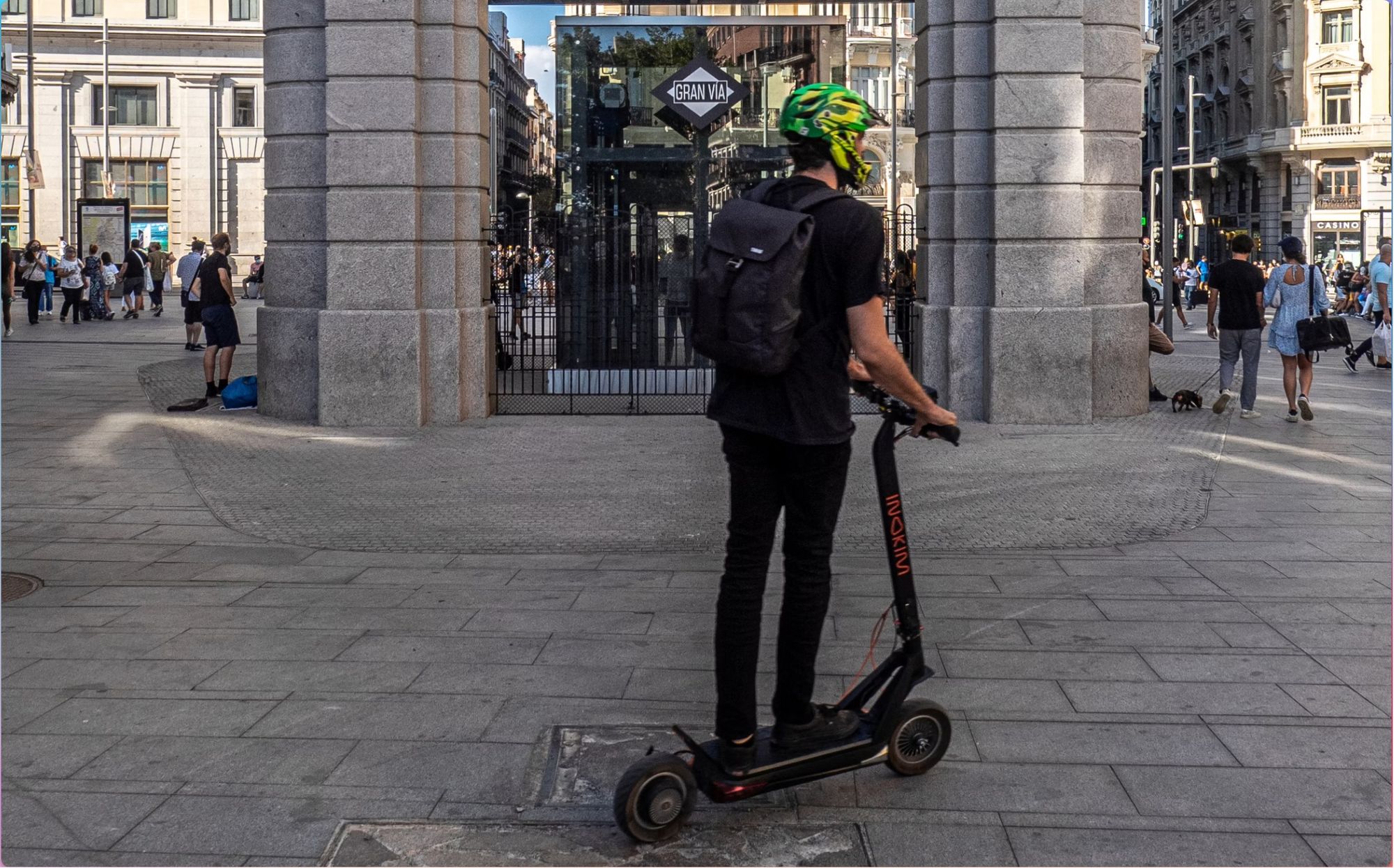 Madrid boasts an excellent transportation system that allows visitors to navigate the city with ease. The metro network is extensive, covering the entire city and its outskirts, making it the preferred mode of transport for many. Buses are also widely available, providing comprehensive coverage and convenient connections. Madrid's public transportation operates on a unified ticketing system, making transfers between metro, bus, and suburban trains seamless.
Walking is another enjoyable way to get around Madrid, especially in the city center, where many attractions are within walking distance of each other. Cyclists can also take advantage of bike lanes and the city's bike-sharing program, BiciMAD, to explore Madrid's streets and parks.
Vibe and People
Barcelona: Laid-Back & Multicultural
Barcelona is the epitome of a Mediterranean city, boasting a distinct vibe that combines laid-back beach life with a cosmopolitan atmosphere. The Catalan capital thrives on its balance between the old and the new, where Gothic quarters meet modernist marvels. This balance permeates the city's ambience, as time seems to slow down amidst the bustling city life.
The people of Barcelona are friendly, welcoming, and proud of their Catalan heritage, which is distinct from traditional Spanish culture. The city is a cultural melting pot with inhabitants from all around the globe, leading to an enriched and diverse vibe. You'll find people communicating in a variety of languages, primarily Catalan and Spanish, but English is also widely spoken.
Whether you're roaming the bustling La Rambla, lounging on the beach in Barceloneta, or exploring the vibrant districts like El Raval and El Born, Barcelona's multicultural and cosmopolitan essence is palpable everywhere.
Madrid: Sophisticated & Lively
Madrid, Spain's capital, offers a different flavor of Spanish life. As the country's political, economic, and cultural heart, Madrid exudes a more formal, sophisticated vibe compared to Barcelona. The city is lively and full of energy at all hours, with a nightlife scene that is legendary across Europe.
Madrileños, as Madrid's inhabitants are known, are warm, hospitable, and have an infectious zest for life. This is a city that never sleeps, where people savor life's pleasures, whether it be food, art, or music. The locals are also particularly proud of their traditions, be it their rich tapas culture, their love for football, or their dedication to flamenco.
Madrid's districts, like Malasaña, Chueca, and La Latina, each offer their own unique vibe. From trendy and bohemian to historic and traditional, you'll find a dynamic range of atmospheres that reflect the city's versatile personality.
Sights & Culture
Barcelona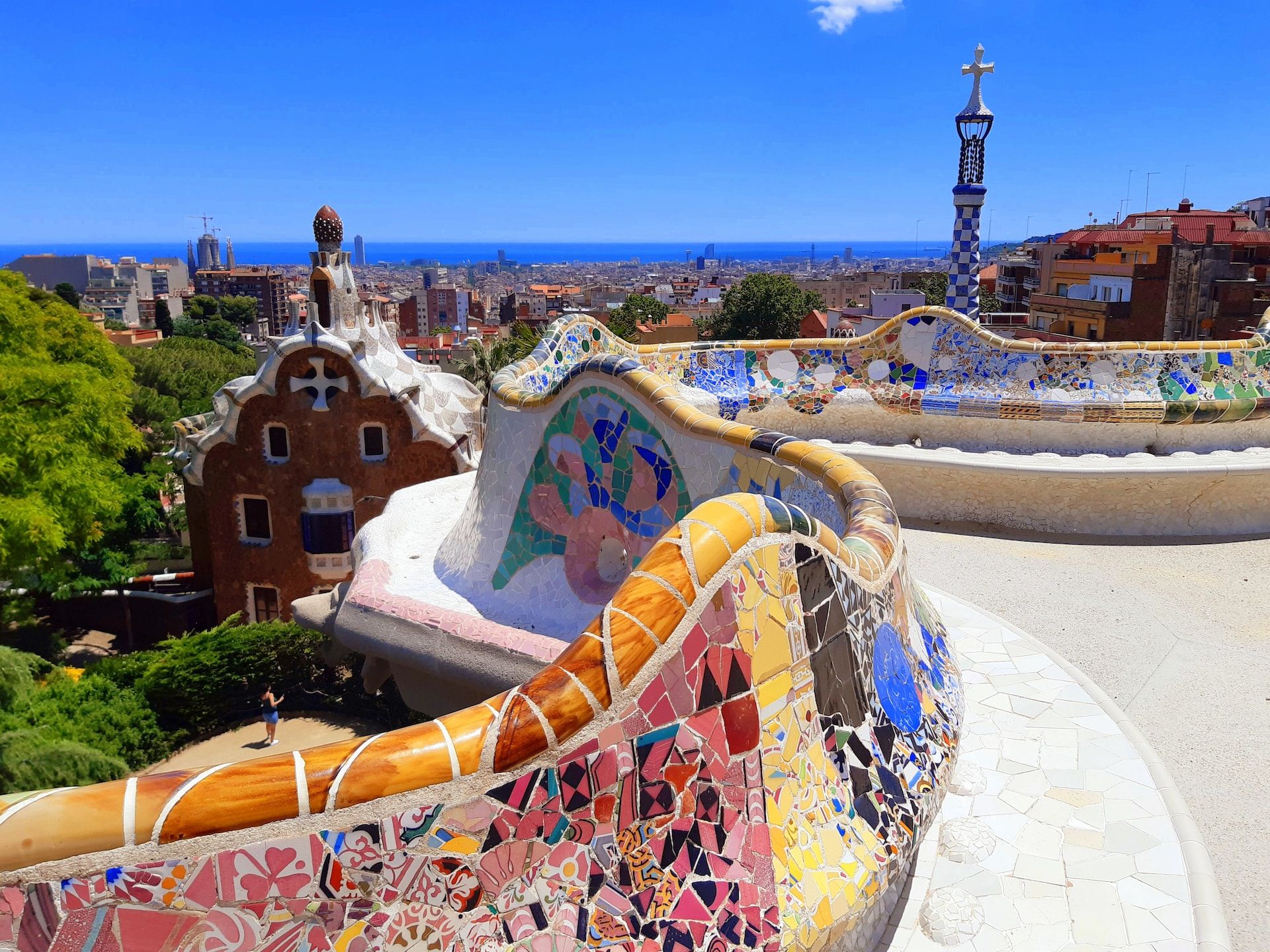 🏛️ La Sagrada Familia: Barcelona's most iconic symbol, this architectural masterpiece by Antoni Gaudí is a UNESCO World Heritage site. The cathedral's unique design and intricate details will leave you in awe.
🌳 Park Güell: Another Gaudí masterpiece, this public park offers panoramic views of Barcelona. It's known for its beautiful mosaic artworks and architectural elements.
🏰 Gothic Quarter (Barri Gòtic): Wander through narrow medieval streets filled with trendy bars, clubs, and Catalan restaurants.
🖼️ Picasso Museum: This museum hosts an extensive collection of Pablo Picasso's works, showcasing his deep ties to Barcelona.
🏟️ Camp Nou: For football fans, a visit to FC Barcelona's home ground is a must. The stadium tour offers a deep dive into the club's rich history.
🌴 Barceloneta Beach: Enjoy the sun and sand at one of Barcelona's most popular beaches, offering a fantastic view of the city's coastline.
🏛️ Casa Batlló: Yet another Gaudí's masterpiece, this building is a major landmark with a unique architectural style.
🎭 Palau de la Música Catalana: Visit this concert hall for its stunning modernist design. If possible, catch a concert to experience the fantastic acoustics.
🎨 Fundació Joan Miró: This museum houses a comprehensive collection of Joan Miró's works, one of the most influential artists of the 20th century.
🛍️ Passeig de Gràcia: This broad, elegant avenue is home to luxury shops, architectural landmarks (including Gaudí's La Pedrera), and some of the city's most important modernista buildings.
Madrid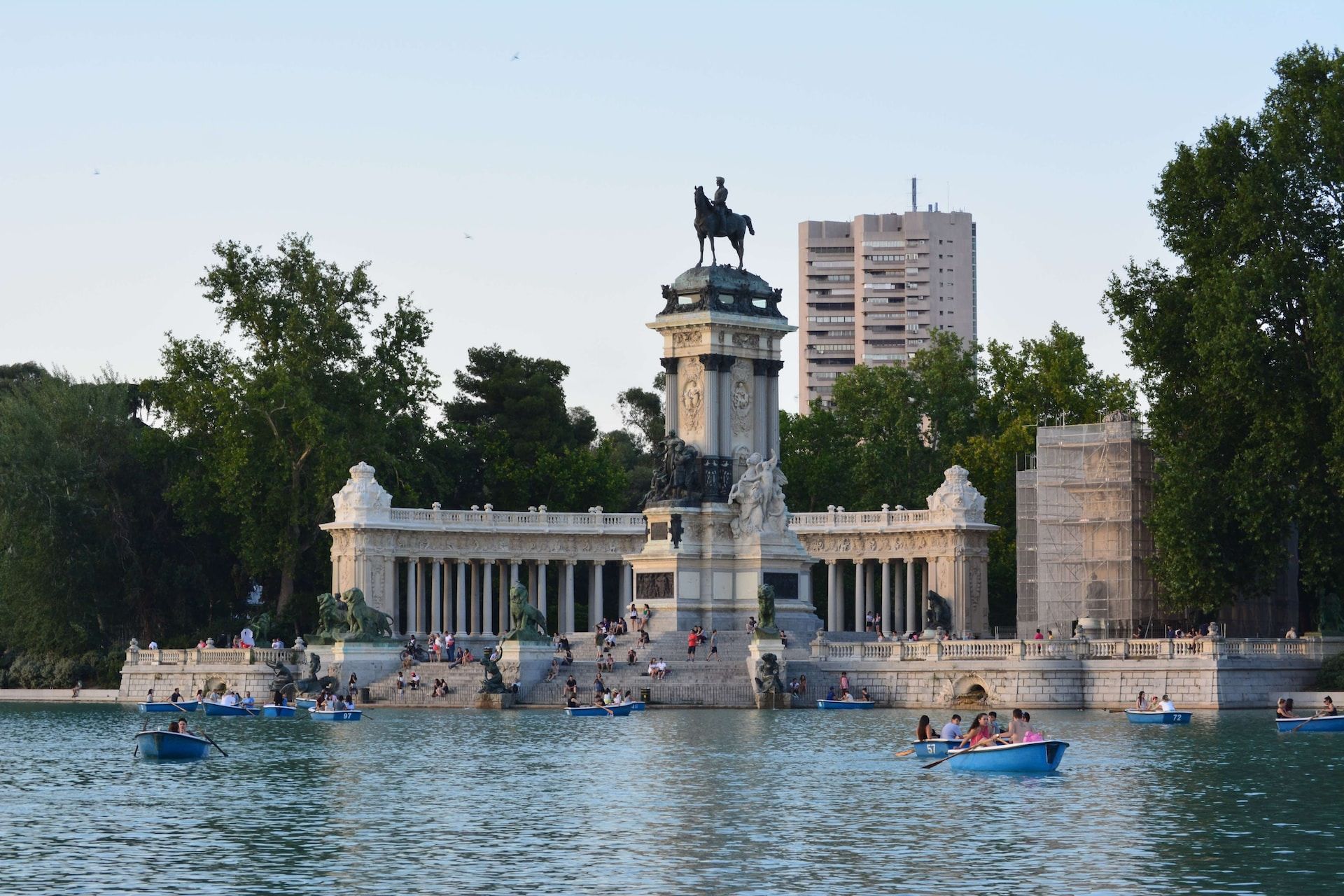 🏛️ Prado Museum: As Spain's main national art museum, it's home to one of the finest collections of European art. Works from Spanish masters like Velázquez and Goya are highlights.
🌳 Retiro Park: Once a royal garden, this large park is perfect for a leisurely stroll, a boat ride on the lake, or visiting the beautiful Glass Palace.
🏰 Royal Palace of Madrid: This is the official residence of the Spanish royal family. Although they do not live here, the palace's grand architecture and historical significance make it a must-visit.
🖼️ Reina Sofia Museum: This is the place to go for contemporary art lovers, as it houses an excellent collection of 20th-century art, including Picasso's Guernica.
⛪ Almudena Cathedral: Located next to the Royal Palace, it's Madrid's largest church and notable for its beautiful neo-Gothic interior.
🏟️ Santiago Bernabéu Stadium: Home to Real Madrid, this stadium is a must-visit for football fans. Take a tour to see the pitch, the dressing rooms, and the trophy collection.
🏛️ Thyssen-Bornemisza Museum: The museum completes the 'Golden Triangle of Art' along with the Prado and Reina Sofia. It hosts an impressive collection of works from the 13th to the 20th centuries.
🏬 Gran Via: Madrid's most famous street is lined with shops, theatres, and architectural landmarks. It's always buzzing with energy.
🎭 Teatro Real: Madrid's major opera house hosts a range of international productions throughout the year. Consider taking a tour or catching a performance.
🍽️ San Miguel Market: This culinary haven is the perfect place to try traditional Spanish tapas and a variety of local delicacies.
Food & Nightlife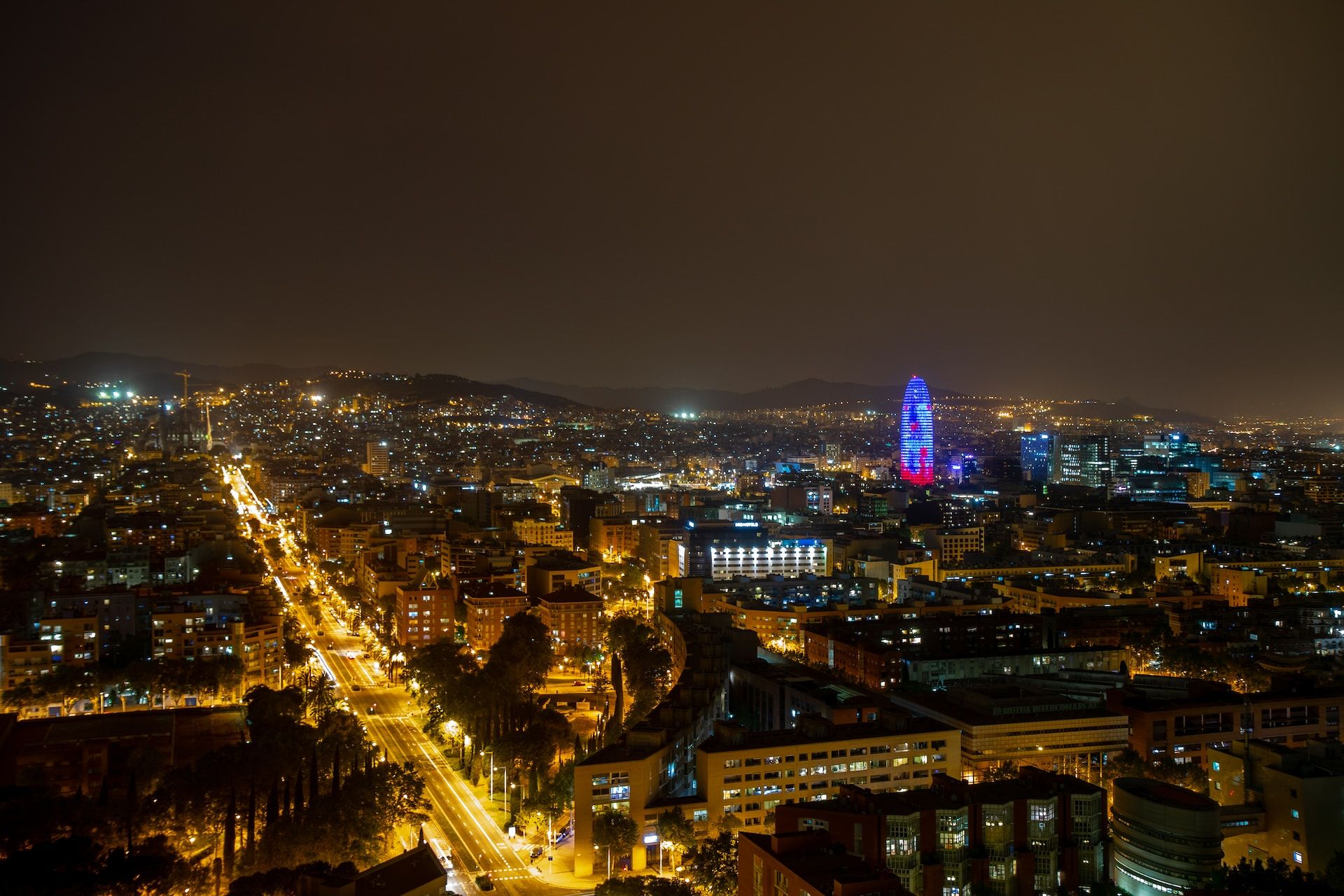 Food & Nightlife in Barcelona
Barcelona's food scene is as diverse as its people. The city is famous for its vibrant tapas culture where you can try local delicacies like patatas bravas, gambas al ajillo, or the traditional Catalan dish, 'pa amb tomàquet'. Barcelona is also a paradise for seafood lovers, thanks to its coastal location. Not to be missed is a visit to the lively La Boqueria market, a colorful explosion of fresh produce and local flavors.
If you have a sweet tooth, try the city's famous churros with a side of rich, dark chocolate. As for the nightlife, Barcelona has it all - from laid-back beach bars in Barceloneta, trendy clubs in El Raval, to intimate flamenco shows in the Gothic Quarter. The city is known for its late-night parties, so don't be surprised if you find yourself dancing until the sun comes up!
Food & Nightlife in Madrid
Madrid is a gastronomic wonderland where traditional Spanish cuisine meets innovative culinary concepts. From the enticing aroma of fresh churros y chocolate at San Gines, to savoring the city's renowned tapas on a bustling terrace in La Latina, Madrid offers an immersive food journey. The city's specialities include cocido madrileño (a hearty chickpea stew), bocadillo de calamares (squid sandwich), and huevos rotos (eggs with potatoes and ham).
For an authentic Madrid experience, visit the bustling Mercado de San Miguel, where food vendors sell everything from olives to oysters. When the sun goes down, Madrid truly comes alive. Whether it's the chic bars of Salamanca, the alternative scene in Malasaña, or the legendary nightclubs that stay open till dawn, Madrid's nightlife is thrilling and caters to all tastes. Don't forget to end your night with the local tradition of churros con chocolate at a late-night churrería!
Shopping
Shopping in Barcelona
Shopping in Barcelona is a delightful experience, whether you're hunting for high-end fashion, unique Catalan designs, or quirky souvenirs. Passeig de Gràcia is the city's most famous shopping street, home to luxury designers and iconic brands. Don't miss the chance to explore the independent boutiques and artisan workshops tucked away in the Gothic Quarter and El Born, known for their unique local products and vintage finds.
Barcelona is also famous for its markets; the Mercat de la Boqueria and Mercat de Sant Josep offer a vast range of fresh produce, local delicacies, and regional wines. For art lovers, numerous galleries and stores sell artworks, ceramics, and crafts by local artists. From stylish concept stores to bohemian vintage shops, Barcelona offers a shopping experience as diverse as the city itself.
Shopping in Madrid
Madrid offers a wide array of shopping experiences to cater to every kind of shopper. Salamanca district's Calle de Serrano, often referred to as Madrid's Golden Mile, is the go-to destination for high-end fashion and luxury brands. For something uniquely Madrileño, head to the trendy district of Malasaña, known for its vintage stores, independent boutiques, and eclectic markets like the Mercado de Fuencarral.
Gran Via, Madrid's answer to Broadway, is perfect for mainstream retail therapy, while the El Rastro flea market is a treasure trove for those who enjoy bargain hunting. For food shopping, Mercado de San Miguel offers a taste of traditional Spain with stalls selling a wide variety of local produce, gourmet delicacies, and regional wines. From luxurious to bohemian, Madrid offers a rich tapestry of retail experiences.
Lodging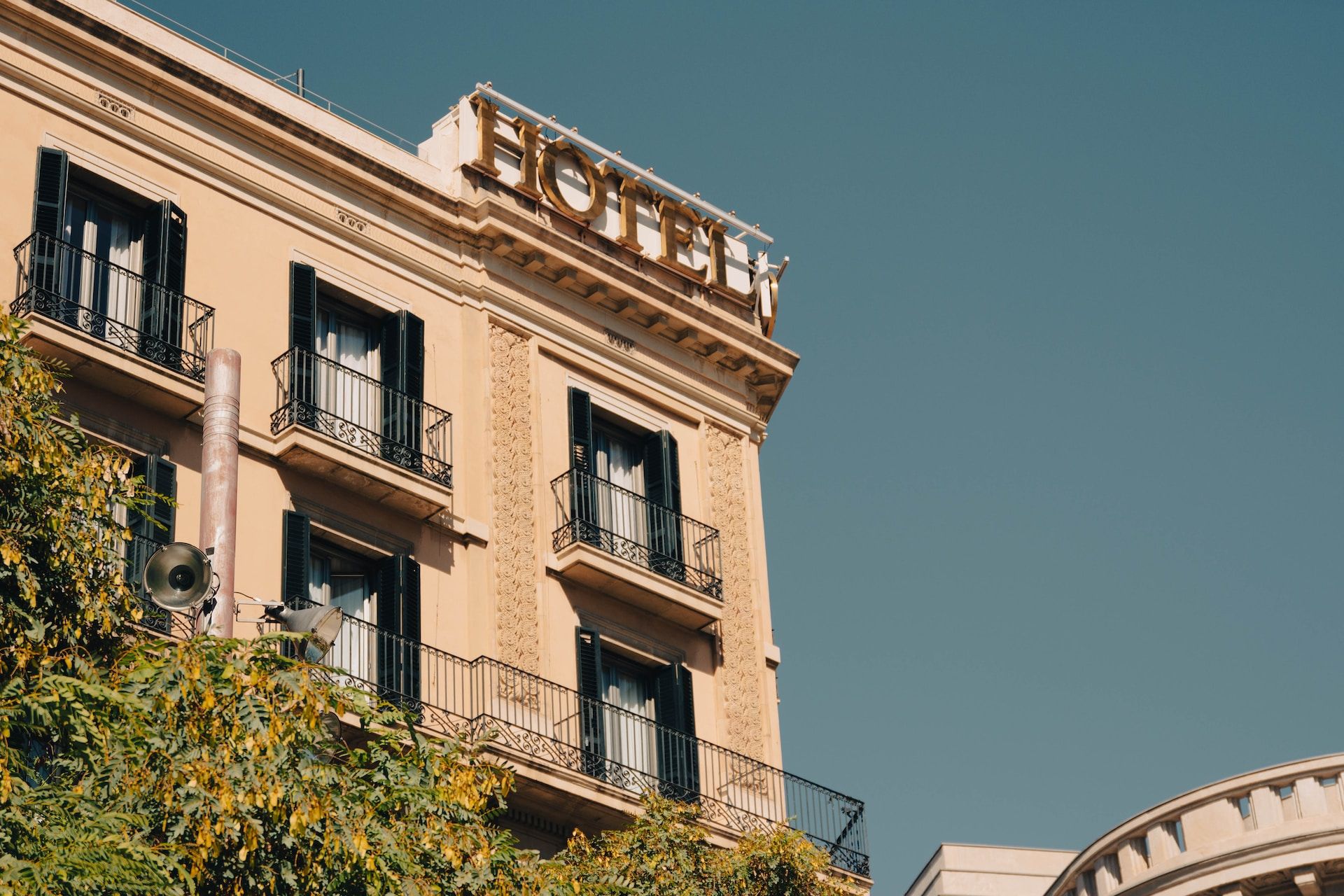 Lodging in Barcelona
Barcelona offers a wide variety of accommodation options to suit every traveler's needs and budget. For those who enjoy luxury, there are upscale hotels along the iconic W Barcelona and near the beach in Barceloneta, offering stunning views of the city and the Mediterranean.
The Gothic Quarter and El Born are filled with boutique hotels and B&Bs that ooze charm and character, ideal for those who want to be in the heart of the city's historic center. Budget travelers can find numerous high-quality hostels and budget hotels scattered across the city, especially in lively areas like El Raval. For a longer stay or for those seeking a home-like feel, vacation rentals and serviced apartments are widely available throughout Barcelona.
Lodging in Madrid
Madrid offers an extensive range of accommodation options, from luxury hotels to cozy guest houses. High-end travelers can find five-star luxury at the hotels in Salamanca or along the Gran Via, with plush rooms and impeccable service. Boutique hotels can be found in trendy districts like Malasaña and Chueca, where you'll be surrounded by lively bars, shops, and restaurants.
Madrid also offers a good selection of budget-friendly options, including hostels and budget hotels, particularly in areas like La Latina and near the Retiro Park. For a more authentic Madrileño experience, consider staying in a traditional Spanish pension (guesthouse). Alternatively, there are plenty of vacation rentals available throughout the city, which can be a perfect option for families or longer stays.
Final Thoughts
Choosing between Barcelona and Madrid is a delightful dilemma to have. Each city offers a unique slice of Spanish life, tinged with their distinct culture and vibrant energy. Barcelona, with its relaxed Mediterranean vibe, modernist architecture, and rich Catalan culture, is an eclectic blend of old and new. Madrid, on the other hand, offers a dose of classic Spain with its grand royal history, pulsating nightlife, and gastronomic delights.
When it comes to food, nightlife, shopping, and lodging, both cities provide a wide range of options for all tastes and budgets. Barcelona might steal your heart with its seaside charm, inventive tapas, and independent boutiques, while Madrid could captivate you with its traditional cuisine, late-night parties, and luxury shopping streets.
Ultimately, the choice between Barcelona and Madrid will hinge on what you're looking for in your Spanish adventure. Rest assured, both cities are bursting with experiences waiting to be discovered and enjoyed. Whether you choose Barcelona's coastal allure or Madrid's pulsating heart, your Spanish sojourn is bound to be unforgettable. And who says you have to choose? If time permits, why not experience the best of both worlds?